Lok Satta is convinced that the national reform effort should be focused on one clearly defined vital goal, the achievement of which facilitates all other reforms.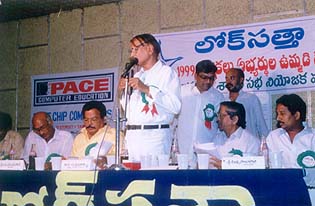 Electoral reform is identified as such a crucial goal for the following reasons:
Fair elections are central to a democracy.
Broad consensus exists on many facets of electoral reform.
Parties will find it difficult to justify status-quo and oppose reform.
Most electoral reforms can be achieved by simple change of law or rules.
The following approaches are being followed to build a viable electoral reform movement
A clear, well-defined, well-documented agenda around which there is a consensus.

Develop capacity for mass mobilization in at least two or three states, including Andhra Pradesh.

Sharing of electoral reform agenda, and the experience of citizens' initiatives for fair elections ( Election Watch) and good governance(People's Watch) with the best known activists and thinkers in major States.

Promotion of Election Watch movement in States due to go to polls: Kerala, Tamil Nadu, West Bengal, Uttar Pradesh, and Punjab.

Formation of a national secretariat of eminent and credible Indians with irrevocable commitment to specific electoral reforms.

Link the deepening fiscal crises and other governance issues to electoral reform, and propagate the message.

Mobilize student power on the twin issues of quality higher education, and fair elections for better representation.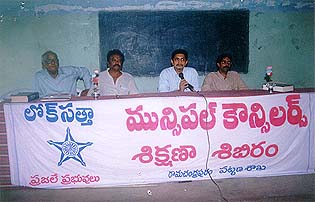 Lok Satta believes that the time for collective action for electoral reforms is ripe now. Given the deepening fiscal crisis of governments, the increasing political uncertainty and the unsustainity of status-quo, we have before us a priceless window of opportunity to achieve electoral and governance reforms in the next few years. The dynamism of our society, the yearning for change visible all over, and the relative robustness of the private economy give the nation the capacity to embark upon electoral and governance reforms. more.....

---
Citizens' Campaign for Electoral Funding Reform